---
Today's news selection contains the latest real estate related stories. Do you own a real estate/property/finance blog or news site? Send the URL to news@agent.sg so our editors can use them as sources.
---
A S$1.58 BILLION merger between Frasers Logistics & Industrial Trust (FLT) and Frasers Commercial Trust (FCOT) has been proposed by the managers of both real estate investment trusts (Reits).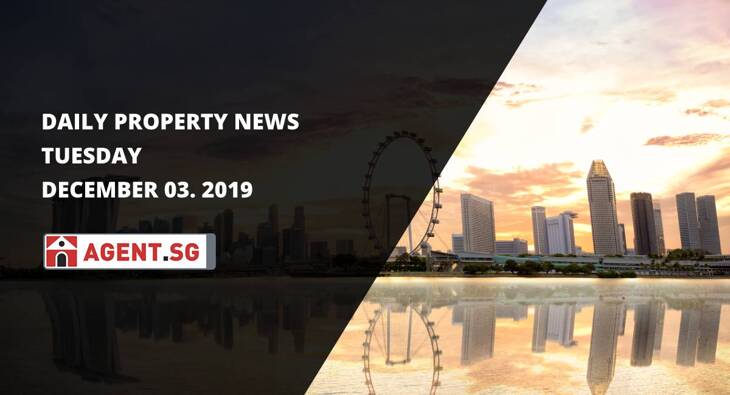 The proposed deal will be by way of a trust scheme of arrangement, which will see FLT acquiring all units of FCOT for about S$1.54 billion, the managers said on Monday in a bourse filing.
FLT will pay the scheme consideration via a combination of cash and the issuance of new FLT units to FCOT unitholders.
For each FCOT unit they hold, FCOT unitholders will receive S$0.151 in cash and 1.233 new FLT units at an issue price of S$1.24 apiece. This means FCOT unitholders will be paid a scheme consideration of S$1.68 for each FCOT unit held, which implies a gross exchange ratio of 1.355 times.
This represents a premium of around 0.6 per cent, 3.5 per cent and 8.2 per cent to FCOT's last traded price on Nov 27, one-month volume-weighted average price (VWAP) and 12-month VWAP, respectively.
The total cost of the proposed merger will be around S$1.58 billion. This comprises the S$1.54 billion scheme consideration, as well as a S$11.2 million acquisition fee and S$35 million in professional and other fees.
---
Real estate related news stories from Singapore
---
Asian property news round up
---
Luxurious design in December
---
Previous news selection
Record M&A in Singapore property managers as investors pile in
---
About Agent.sg Daily Property News Selection
Agent.sg's Daily Property News Selection brings you the most important property market news in and around Singapore. We list the best articles on real estate development, property investment and on the property listing market on a daily basis - whoever stays out, misses out.
Contribute
If you also want to share an amazing article that you come across and it fits in the real estate / economy topics, just let it us know in e-mail. We don't guarantee to publish all, but we will some of them for sure. If you want us to bring out your own article, please contact us at news@agent.sg. Some references would also be highly welcome to send us from among your previous publications.
Advertise
Are you looking for some online distribution channels? You find one. Haven't you found a place for your traditional means of advertisement, like PR article or display banner? You've never been so close, just e-mail us at news@agent.sg and our colleague will get in touch with you.