---
Today's news selection contains the latest real estate related stories. Do you own a real estate/property/finance blog or news site? Send the URL to news@agent.sg so our editors can use them as sources.
---
Although prices normally rise for 8.7 quarters, global headwinds could suggest shorter growth. The rise in residential property prices based on the Urban Redevelopment Authority's (URA) index is projected to most likely last until Q3 2020, according to Savills Research.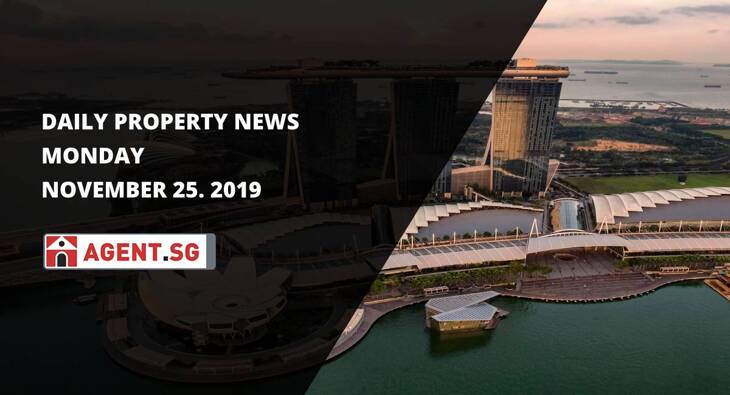 "Although studies have shown that the up-leg of our price cycle tends to last 8.7 quarters, but with the global headwinds driven by social and political tensions, it may be better to err on the side of caution and choose a shorter time frame of 6 quarters as the base case," the report wrote.
According to URA, private home prices grew a second time by 1.3% in Q3, moderating from 1.5% in the previous quarter, which Knight Frank attributed to new sales.
Savills added that if a downturn in prices occurred before the quarter, it may have been caused by an event different from the factors that have historically affected the market.
Savills recommended to leave the current private residential market "unperturbed" and not resort to further cooling measures despite the economic conditions.
It noted that the sales volume were largely concentrated amongst the smaller-sized units, with over a third or 34.8% of new sold units in the first nine months of 2019 sized 600-800sqft, as most Singaporeans have budgets less than $1.5m. However, attempts by developers to cut the prices for larger units will cause prices on a per-sqft basis to drop sharply.
For instance, equating the price quantum of an 880sqft apartment to an 800sqft unit will cause prices to fall 9.1%.
---
Real estate related news stories from Singapore
---
Asian property news round up
---
Open house ideas
---
Previous news selection
Industrial REITs lead Q3 NPI growth amongst S-REITs
---
About Agent.sg Daily Property News Selection
Agent.sg's Daily Property News Selection brings you the most important property market news in and around Singapore. We list the best articles on real estate development, property investment and on the property listing market on a daily basis - whoever stays out, misses out.
Contribute
If you also want to share an amazing article that you come across and it fits in the real estate / economy topics, just let it us know in e-mail. We don't guarantee to publish all, but we will some of them for sure. If you want us to bring out your own article, please contact us at news@agent.sg. Some references would also be highly welcome to send us from among your previous publications.
Advertise
Are you looking for some online distribution channels? You find one. Haven't you found a place for your traditional means of advertisement, like PR article or display banner? You've never been so close, just e-mail us at news@agent.sg and our colleague will get in touch with you.