---
Today's news selection contains the latest real estate related stories. Do you own a real estate/property/finance blog or news site? Send the URL to news@agent.sg so our editors can use them as sources.
---
ESR-REIT's NPI doubled from its merger with Viva. Industrial REITs saw the strongest net property income (NPI) growth at 5-101% YoY in Q3 2019, according to Maybank Kim Eng. This was mainly attributed to higher contributions from earlier acquisitions.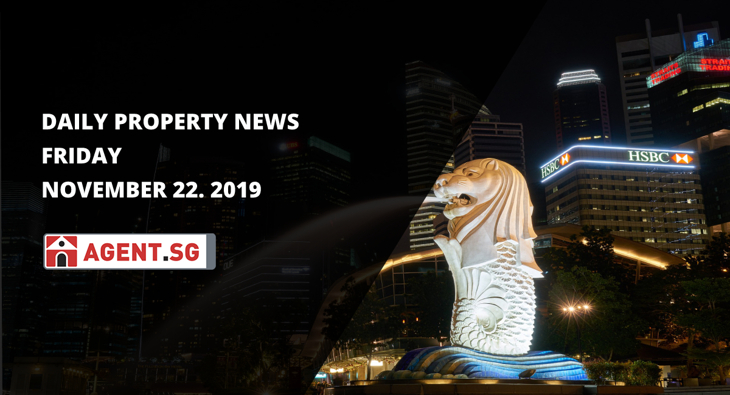 Industrial REITs were also noted to be the most active in deals as they pushed overseas diversification. Overseas assets under management (AUMs) for industrial REITs hit 24-69% of the total from from 9-67%.
"Overseas assets are mostly freehold and should continue to strengthen S-REITs' overall AUM growth, with their relatively longer WALEs and leases embedded by annual rental escalations supporting DPU visibility," according to Maybank Kim Eng analyst Chua Su Tye.
Industrial REITs are expected to see stabilising rents and easing supply. The JTC all-industrial rental index only edged up 0.1% in Q3, whilst supply is projected to slow to 1.7% pa for 2019-21 from 3.3% in 2014-18.
"Leasing activity was largely due to renewals and relocations as tenants continued to rightsize or consolidate, while holding back their expansion given uncertain macros, suggesting a slower recovery in rents," Chua said.
---
Real estate related news stories from Singapore
---
Asian property news round up
---
Cleaning tips in November
---
Previous news selection
Uncompleted home listings surged 45% to 3,628 units in Q3
---
About Agent.sg Daily Property News Selection
Agent.sg's Daily Property News Selection brings you the most important property market news in and around Singapore. We list the best articles on real estate development, property investment and on the property listing market on a daily basis - whoever stays out, misses out.
Contribute
If you also want to share an amazing article that you come across and it fits in the real estate / economy topics, just let it us know in e-mail. We don't guarantee to publish all, but we will some of them for sure. If you want us to bring out your own article, please contact us at news@agent.sg. Some references would also be highly welcome to send us from among your previous publications.
Advertise
Are you looking for some online distribution channels? You find one. Haven't you found a place for your traditional means of advertisement, like PR article or display banner? You've never been so close, just e-mail us at news@agent.sg and our colleague will get in touch with you.