---
Today's news selection contains the latest real estate related stories. Do you own a real estate/property/finance blog or news site? Send the URL to news@agent.sg so our editors can use them as sources.
---
Singapore has a property glut that could take years to clear, threatening to kill a nascent price recovery amid an already uncertain economic outlook.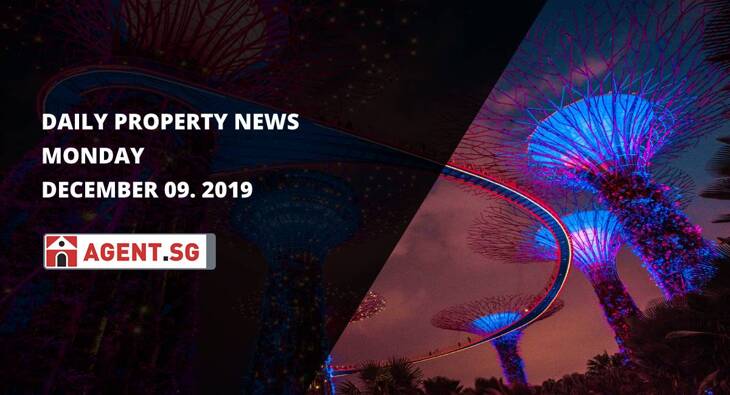 The city-state had an overhang of 31,948 units as of Sept 30, according to the Urban Redevelopment Authority. Sales have averaged about 2,500 homes per quarter this year, and at that rate it will take almost four years to clear the backlog, according to Christine Li, head of research for Singapore and Southeast Asia at Cushman & Wakefield Plc.
The glut has prompted developers to call for property curbs to be eased, including lowering the 20 per cent stamp duty for foreign buyers and getting more time to sell apartments before being hit with punitive levies. The over-supply also threatens to push down prices, the central bank warned last month.
And given the unsure economic outlook, sales might fall between 5 per cent and 10 per cent next year, said Christine Sun, head of research at OrangeTee & Tie Pte. Property prices could still rise, albeit at a slower pace of 1 per cent to 3 per cent "assuming the economy doesn't deteriorate excessively next year."
---
Real estate related news stories from Singapore
---
Asian property news round up
---
Home design trends in 2020
---
Previous news selection
More REIT mergers lie ahead as growth prospects dry up
---
About Agent.sg Daily Property News Selection
Agent.sg's Daily Property News Selection brings you the most important property market news in and around Singapore. We list the best articles on real estate development, property investment and on the property listing market on a daily basis - whoever stays out, misses out.
Contribute
If you also want to share an amazing article that you come across and it fits in the real estate / economy topics, just let it us know in e-mail. We don't guarantee to publish all, but we will some of them for sure. If you want us to bring out your own article, please contact us at news@agent.sg. Some references would also be highly welcome to send us from among your previous publications.
Advertise
Are you looking for some online distribution channels? You find one. Haven't you found a place for your traditional means of advertisement, like PR article or display banner? You've never been so close, just e-mail us at news@agent.sg and our colleague will get in touch with you.