Since your home will be your most expensive purchase, a proper financial plan will be imperative when it comes time to buy your first flat. But with real estate prices on the rise, it may seem like it can be difficult to keep pace even with stringent savings. Luckily, Singapore's HDB flats provide opportunities for even low-income families to own their homes thanks to subsidies and grants offered by the government. With 80% of Singaporeans opting for HDB flats, it's clear that these types of flats are popular and have helped in Singapore's enviable home ownership rates. So how much do these flats cost and how can you save on your HDB flat purchase? We explore below.
HDB Prices Have Been Steadily Increasing
Over the past 10 years, HDB resale prices have been steadily increasing, with peak pricing occurring in 2013. Since then, prices started dropping until 2020, where we saw the annual median price increase by 3%. This price increase may have several explanations. First, there was an increased demand for HDB resale flats as BTO flat construction paused in 2020. Second, there was an influx of 'new' resale flats that have just passed the 5-year Minimum Occupation Period (MOP). These newer flats with longer leases generally command higher prices than older flats and may have skewed the median price upwards, thanks in part to their increasing market share.
Median Annual Price of Resale Flats by Flat Type
How Much Will You Pay for a Resale HDB?
So now that we know how HDB flat prices have fluctuated in the past, how much will you expect to pay for a flat in the near future? So far, the HDB resale price index has increased 3% since Q4 2020, and is currently 6.2% higher than 2020's annual price index average. This is unsurprising, as price increases were largely predicted to happen. This price hike makes the current median cost of an 4-room HDB resale flat S$450,000—S$25,000 more than what you would have expected to pay in 2020 and right around the 2012-2013 peak.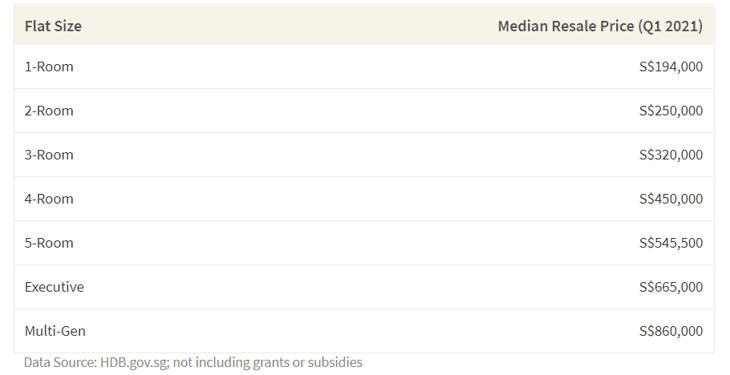 That said, HDB resale flats remain the best option for many homeowners, as they still cost below their peak 10-year price and remain 70% cheaper than private condos and 80% cheaper than landed properties. If you are looking to buy a resale flat in the next couple of years, it could be prudent to save extra over what the current prices are, so as not to be priced out of the market when the time comes.
How Much Will You Pay for BTO Flat?
If you want to buy a brand new flat with a full 99-year lease, then you can opt for a Build to Order (BTO) flat. BTO flats are launched before they are constructed and have a 2.5-4 year waiting time before you can move into your newly constructed home. Based on the latest BTO launch in November 2020, the median HDB BTO starting prices range from S$114,500 for a 2-room Flexi to S$427,000 for a 5-room flat. However, after factoring in the Enhanced CPF Housing Grant, your total price can decrease by an average of 37%.
Median Price of BTO Flats (Based on November 2020 launch)

You can choose a BTO flat in a mature estate or in a non-mature estate, depending on your preference. While mature estates have been historically popular because of their amenities, non-mature estates have their fair share of advantages as well. For instance, newer estates like Punggol and Tengah can be great options for new families interested in sustainable living.
Other Costs Associated with HDB Flat Purchases
In addition to paying for the mortgage, there are other fees that your budget will need to accommodate. This includes application, stamp duty and legal fees, an option fee, down payment and ancillary costs like home or fire insurance. If you're a Permanent Resident, you will also need to pay additional fees like the Additional Buyer's Stamp Duty on top of the Buyer's Stamp Duty, which is 5% of the purchase price or market value (whichever is higher). Because of the complexity of these fees, we highly recommend you visit the HDB Costs and Fees page to see which ones are applicable to your specific needs.
List of Common HDB Resale Flat Purchasing Fees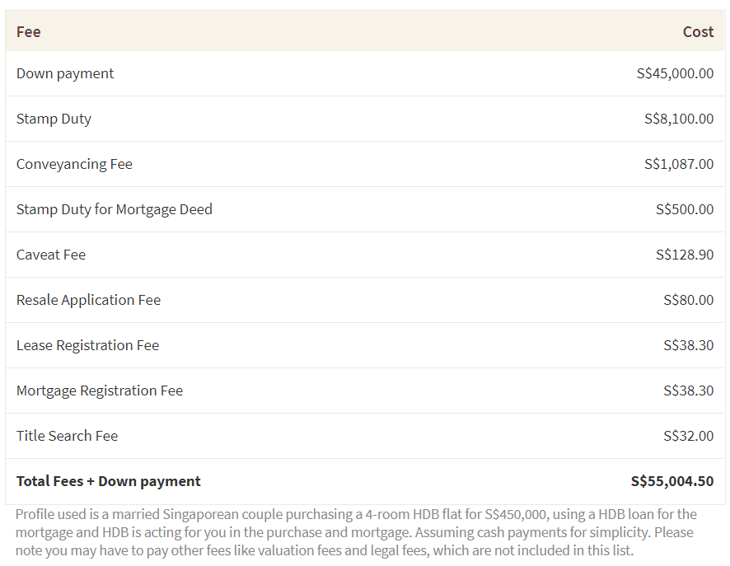 Despite the amount of fees you have to pay, it can be heartening to know you can use your CPF to cover most of them. For instance, you can use your CPF to pay for the stamp duty and legal fees, downpayment, fire insurance and legal fees. To further save on extraneous house purchasing fees, you can also choose not to use a property agent and save a few thousand dollars that you'd have to pay in commission fees.
Ways To Save On an HDB Flat
We are well aware of the housing grants that are given to us when we want to buy our home. Grants like the CPF Enhanced Housing Grant can provide between S$5,000-S$80,000 that first-time homebuyers can put towards the cost of their home, making homeownership considerably more within reach. However, besides utilising grants, there are a few other ways young couples can save on their flat purchase.
One of the best ways is to look at your wishlist and see if there is anything that you could live without in exchange for a lower price. For instance, while you may want a 5-room HDB flat, you could opt for a 4-room flat and save an average of S$77,500. Furthermore, if you are still open to different neighborhoods, it could be worthwhile to choose an HDB town where your ideal flat costs less. For instance, out of the 3 most popular HDB towns (Sengkang, Punggol and Tampines), it is up to 6% cheaper to buy a flat in Seggang than in the other two areas.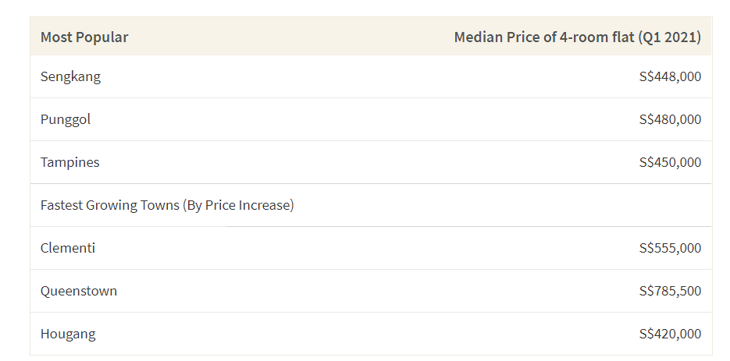 Another option is to consider a flat that has less years remaining on its lease. This is because prices tend to decline as the number of years remaining on a flat's lease decreases (although there are exceptions in some mature estates). For instance, we found that the median HDB resale prices were 14% higher for 4-room flats with 90-99 years remaining on their lease than flats with 45-55 years remaining on their lease.
However, there are drawbacks to buying an older flat. First, an old flat isn't the ideal forever home for young homebuyers, since your lease may end while you are still alive. You also may not be able to use your CPF for the flat unless the youngest buyer's age plus the remaining lease is at least 80 years. Lastly, you may not be eligible for the full housing grant amount if the lease will not cover the youngest buyer until they are 95. Thus, a safe bet is to look for flats that have at least have 60 years remaining on their lease.
Lastly, you can shop around for home loans. While there are merits to going with an HDB loan, like putting down a smaller down payment and paying with your CPF, you may be able to save more over the course of your home loan with other financial institutions. Even small fluctuations of less than half a percent in the home loan rates can lead to savings of over S$3,000 in your interest payments over the course of the loan. Thus, even though buying a home can be a large undertaking, there are many ways you and your partner can reduce your financial burden without sacrificing your dream home.
This guest post is contributed by ANASTASSIA EVLANOVA, SENIOR RESEARCH ANALYST at ValueChampion