---
Today's news selection contains the latest real estate related stories. Do you own a real estate/property/finance blog or news site? Send the URL to news@agent.sg so our editors can use them as sources.
---
Singapore home prices are expected to show modest growth over the next two years, riding on macro-prudential measures and stable mortgage performance, anchored by strong household finances. This is according to the latest findings from Fitch Rating's Global Housing and Mortgage Outlook report.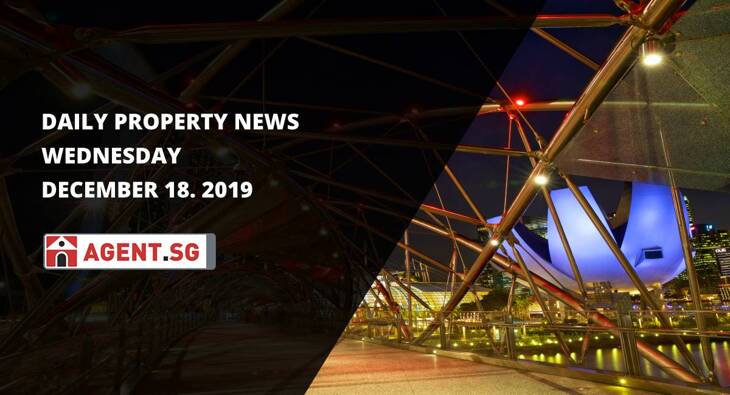 Overall, the rating agency expects nominal home price growth to remain at about 2 per cent in both 2020 and 2021, down from nearly 8 per cent in 2018. "We expect home price growth to reflect the recovering real GDP (gross domestic product) growth rates of 1.5 per cent in both 2020 and 2021, after growth decelerated to 0.6 per cent in H1 19," Fitch said.
It added that lower interest rates and improving borrower affordability, as household incomes grow faster than home prices, should also contribute to rising property prices.
From Q3 2018 to Q1 2019, home prices declined 0.7 per cent, due to regulatory tightening and mortgage rate increases, which dampened market sentiment. However, property prices rebounded slightly in Q2 2019, and Fitch is projecting "minor growth" for the rest of the year.
"If the government views home prices as rising more than is justified by economic fundamentals, we expect that the government would again cool the market through macro-prudential measures," Fitch explained.
---
Real estate related news stories from Singapore
---
Asian property news round up
---
Alternative Christmas Trees
---
Previous news selection
Sim Lim Square launches 2nd bid for collective sale with extra space
---
About Agent.sg Daily Property News Selection
Agent.sg's Daily Property News Selection brings you the most important property market news in and around Singapore. We list the best articles on real estate development, property investment and on the property listing market on a daily basis - whoever stays out, misses out.
Contribute
If you also want to share an amazing article that you come across and it fits in the real estate / economy topics, just let it us know in e-mail. We don't guarantee to publish all, but we will some of them for sure. If you want us to bring out your own article, please contact us at news@agent.sg. Some references would also be highly welcome to send us from among your previous publications.
Advertise
Are you looking for some online distribution channels? You find one. Haven't you found a place for your traditional means of advertisement, like PR article or display banner? You've never been so close, just e-mail us at news@agent.sg and our colleague will get in touch with you.