---
Today's news selection contains the latest real estate related stories. Do you own a real estate/property/finance blog or news site? Send the URL to news@agent.sg so our editors can use them as sources.
---
Home prices rose overall last year but slower economic growth and tough cooling measures meant they struggled to match 2018's more buoyant pace.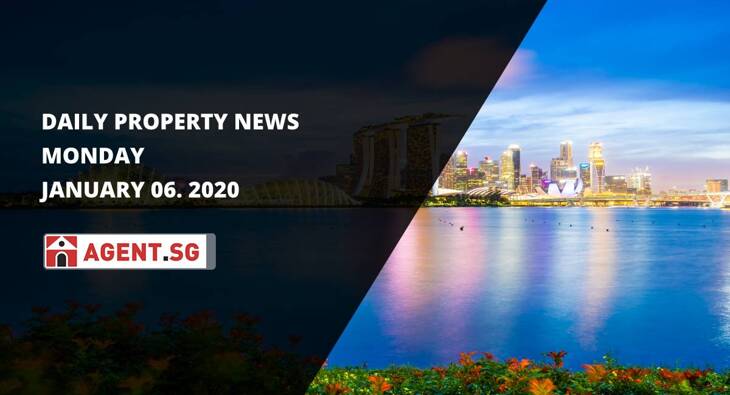 Prices advanced by 2.5 per cent last year compared with a 7.9 per cent jump in 2018, data showed yesterday.
The steam certainly went out of the market late last year, with prices edging up just 0.3 per cent from the third to the fourth quarter following a far more robust increase of 1.3 per cent from the second quarter to the third.
Analysts say the slower pace of price rises is in tandem with the year-end holiday season and shows there is no excessive exuberance in the residential market.
Meanwhile, public housing owners finally have something to cheer about. The prices of Housing Board resale flats rose by 0.4 per cent in the final three months of 2019 compared with the third quarter, in what was the largest quarter-on-quarter increase last year, the latest public housing figures show.
Based on flash estimates, there was no change in resale flat prices for the whole of last year, according to HDB, which released the data yesterday. This means prices were stable compared with the full-year price drop of 0.9 per cent in 2018 over 2017.
Yesterday's Urban Redevelopment Authority flash data also showed that overall private home price gains were driven by landed homes.
Values in this segment rose 4 per cent from the third to the fourth quarter, after gaining 1 per cent in the previous quarter.
---
Real estate related news stories from Singapore
---
Asian property news round up
---
Laundry room Ideas
---
Previous news selection
Private home prices expected to rise this year after 2.5% gain in 2019
---
About Agent.sg Daily Property News Selection
Agent.sg's Daily Property News Selection brings you the most important property market news in and around Singapore. We list the best articles on real estate development, property investment and on the property listing market on a daily basis - whoever stays out, misses out.
Contribute
If you also want to share an amazing article that you come across and it fits in the real estate / economy topics, just let it us know in e-mail. We don't guarantee to publish all, but we will some of them for sure. If you want us to bring out your own article, please contact us at news@agent.sg. Some references would also be highly welcome to send us from among your previous publications.
Advertise
Are you looking for some online distribution channels? You find one. Haven't you found a place for your traditional means of advertisement, like PR article or display banner? You've never been so close, just e-mail us at news@agent.sg and our colleague will get in touch with you.