---
Today's news selection contains the latest real estate related stories. Do you own a real estate/property/finance blog or news site? Send the URL to news@agent.sg so our editors can use them as sources.
---
Prices of private homes in Singapore are expected to rise by between 1 and 5 per cent this year, analysts say, after clocking a 2.5 per cent gain in 2019.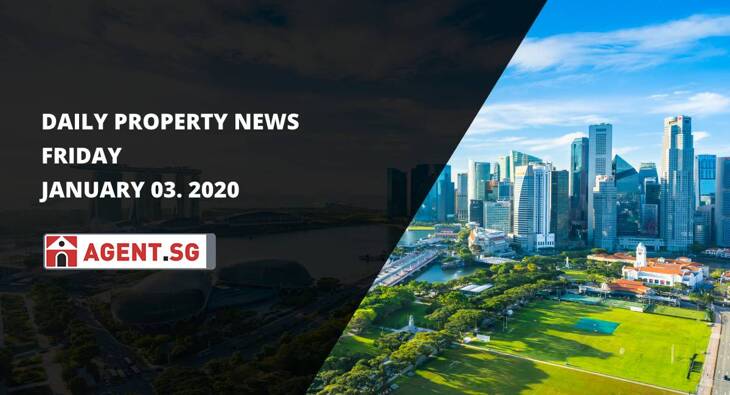 At 2.5 per cent, the price growth moderated from the 7.9 per cent clip in 2018, the Urban Redevelopment Authority's (URA) flash estimate showed.
For the fourth quarter of 2019, the overall price index for private homes was up 0.3 per cent - led by the landed segment - over the prior quarter, compared to 1.3 per cent in Q3 2019. This marks the third consecutive quarter in 2019 where private home prices went up.
Nicholas Mak, head of research & consultancy at ERA Realty, noted that the private residential overall price index has been gradually rising, and is now "only 0.8 per cent lower than the previous peak in Q3 2013".
Still, with prices rising by a much smaller margin in 2019 vis-a-vis 2018, Cushman & Wakefield's head of research for Singapore and South-east Asia Christine Li said: "This strengthens the notion that there is no excessive exuberance in the Singapore residential market and prices are likely to stay in line with economic fundamentals and affordability. There is thus no need for the government to intervene at this juncture, as the market is finding its own equilibrium."
In the fourth quarter of last year, prices of landed property rose 4 per cent, after edging up 1 per cent in Q3 2019. Dr Lee Nai Jia, head of research at Knight Frank, said: "The improvement in prices of landed properties could be due to sustained interest from buyers, who feel that landed homes are good assets for wealth preservation amid the uncertain economic outlook. The increase could also be reflective of the higher prices of choice landed properties which transacted in Q4."
---
Real estate related news stories from Singapore
---
Asian property news round up
---
How much does Interior Design cost?

---
Previous news selection
Singapore private home prices up 0.3% in Q4, 2.5% for 2019: URA flash data
---
About Agent.sg Daily Property News Selection
Agent.sg's Daily Property News Selection brings you the most important property market news in and around Singapore. We list the best articles on real estate development, property investment and on the property listing market on a daily basis - whoever stays out, misses out.
Contribute
If you also want to share an amazing article that you come across and it fits in the real estate / economy topics, just let it us know in e-mail. We don't guarantee to publish all, but we will some of them for sure. If you want us to bring out your own article, please contact us at news@agent.sg. Some references would also be highly welcome to send us from among your previous publications.
Advertise
Are you looking for some online distribution channels? You find one. Haven't you found a place for your traditional means of advertisement, like PR article or display banner? You've never been so close, just e-mail us at news@agent.sg and our colleague will get in touch with you.