---
Today's news selection contains the latest real estate related stories. Do you own a real estate/property/finance blog or news site? Send the URL to news@agent.sg so our editors can use them as sources.
---
Singapore's private housing market is poised for modest price growth next year, amid a resilient leasing market. However, developers are expected to continue being challenged by the significant supply of unsold private housing units in the pipeline although, by some estimates, the oversupply could ease by the end of 2021.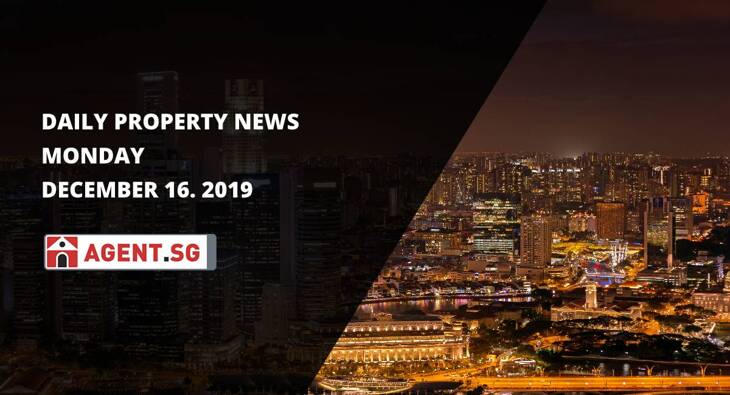 Data from the Urban Redevelopment Authority (URA) shows that as at the end of the third quarter of this year, there were 31,948 unsold units in uncompleted private housing projects with planning approvals - down from the most recent high of 36,839 at end-Q1 this year. Assuming that developers continue to sell about 9,000 private homes on average per year, take-up will total around 18,000 units in the next two years (2020 and 2021). Land supply from the confirmed list of the Government Land Sales (GLS) Programme, on the other hand, is assumed to be about 3,000 private homes annually - or 6,000 units over the two years.
The higher take-up numbers against the GLS supply will result in a net reduction of around 12,000 units from the pool of unsold, uncompleted private homes.
Ong Teck Hui, JLL's senior director of research and consultancy, said: "If the GLS continues to be conservative and outstripped by primary-market sales, we could see the figure fall to under 20,000 units by end-2021, potentially setting the stage for a market recovery."
---
Real estate related news stories from Singapore
---
Asian property news round up
---
Best Christmas decoration in famous hotels

---
Previous news selection
GIC to buy European logistics portfolio for 950m euros
---
About Agent.sg Daily Property News Selection
Agent.sg's Daily Property News Selection brings you the most important property market news in and around Singapore. We list the best articles on real estate development, property investment and on the property listing market on a daily basis - whoever stays out, misses out.
Contribute
If you also want to share an amazing article that you come across and it fits in the real estate / economy topics, just let it us know in e-mail. We don't guarantee to publish all, but we will some of them for sure. If you want us to bring out your own article, please contact us at news@agent.sg. Some references would also be highly welcome to send us from among your previous publications.
Advertise
Are you looking for some online distribution channels? You find one. Haven't you found a place for your traditional means of advertisement, like PR article or display banner? You've never been so close, just e-mail us at news@agent.sg and our colleague will get in touch with you.