---
Today's news selection contains the latest real estate related storys. Do you own a real estate/property/finance blog or news site? Send the URL to news@agent.sg so our editors can use them as sources.
---
About 2,320 flats will become eligible for resale in the next three months. The volume of HDB flat resale expanded 18% MoM to 2,213 units in October, according to the SRX Property Price Index. On a YoY basis, volume rose 10.6%. OrangeTee & Tie noted this to be the highest October sales recorded in four years.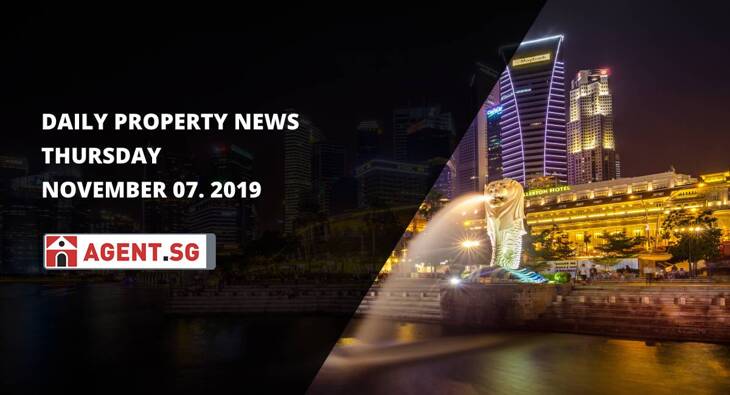 Almost half or 40.8% of the volume came from 4-room flats, followed by 25.4% from 3-room, 24.3% from 5-room and 7.5% from executive. The remaining share came from 2-room and multi-gen flats.
Also read: HDB resale prices down 0.2% in September
According to OrangeTee, the rise in demand to likely came from the introduction of policies, including the enhancement of grants for first-time buyers and raising the income ceiling for families buying resale flats with a CPF Housing Grant on the open market.
"Some policies that were rolled out in the second quarter of this year may now be taking effect, as it takes time for buyers to be aware of the new policies and assess their eligibility in using the new schemes," OrangeTee wrote.
A growth in the supply of flats reaching the 5-year minimum occupation period (MOP) also likely added to the volume. About 2,320 flats will reach MOP in the next three months, when they will become eligible to join the HDB resale market.
---
Real estate related news stories from Singapore
---
Asian property news round up
---
Colour of the year - rose gold
---
Previous news selection
Frasers Logistics & Industrial Trust's NPI up 23.2% to $186.7m for FY2019
---
About Agent.sg Daily Property News Selection
Agent.sg's Daily Property News Selection brings you the most important property market news in and around Singapore. We list the best articles on real estate development, property investment and on the property listing market on a daily basis - whoever stays out, misses out.
Contribute
If you also want to share an amazing article that you come across and it fits in the real estate / economy topics, just let it us know in e-mail. We don't guarantee to publish all, but we will some of them for sure. If you want us to bring out your own article, please contact us at news@agent.sg. Some references would also be highly welcome to send us from among your previous publications.
Advertise
Are you looking for some online distribution channels? You find one. Haven't you found a place for your traditional means of advertisement, like PR article or display banner? You've never been so close, just e-mail us at news@agent.sg and our colleague will get in touch with you.